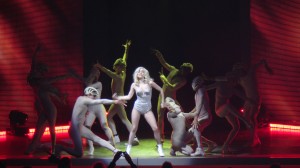 I've always thought that Christmas and Thanksgiving should be consolidated into a single holiday, where we can eat Turkey, open presents, give thanks, and straight people and lesbians can watch football, but now I realize that New Years makes Thanksgiving redundant. Truly we should give thanks for what we have on New Years Eve. What better time do we have to be thankful for the year brought us and party for what our future holds?
2010 is not a year I would choose to repeat; while it had victories like B finding a full time position and my own personal promotion at Widgets Inc it also had consequences with B moving to Texas and having to supervise the destruction of my department only a month after being moved up. Coming up with a list of what I'm happy about is harder than most years, but I'll admit I have a few items.
I lived through another year and didn't kill anyone.
I have friends who care about me (and took me to see Lady Gaga!).
B has found a job that makes him happy.
I work with a great team of individuals on a daily basis.
After thousands of dollars in insulation, new windows, and other home investments, my house is warm in winter.
I realized this year that staying in the closet is helping no one.
I came out to my Dad, and have come closer to my family for the first time in years.
I have discovered pod coffee, or as I see it, coffee of the future!!!
At work we're wrapping up on annual reviews, which involves the painful process of coming up with goals for next year. Now, I really hate new year's resolutions because they usually involve making a life changing decisions because of an arbitrary date – I'm looking at you "I'm going to start going to the gym", which always lasts only two weeks – but I'm a fan of annual goals, which have an end date and can be reviewed the next Thanks-New Year (Confused? You should be).
Here are my 2011 goals:
I want to make at least two new animations.
I'm going to fix the retaining wall and my porch.
I'm going to wrap up "The Oak Lawn Tales"
So, that's all I can think of, but one doesn't need lots of things to focus on when it comes to goals.
Happy New Year Everyone!